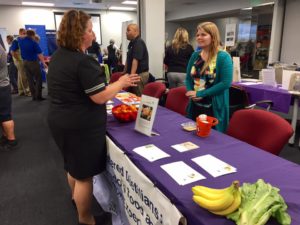 Welcome to my website and blog! My name is Carrie Weitzel. I am a Registered Dietitian located in Lakewood, Colorado, 10 minutes from downtown Denver, with a passion for helping people eat better so they can feel better. Some of my interests in nutrition include mental health and diabetes which I have had experience with throughout my career. I provide individual nutrition counseling in a private office environment. I believe everyone needs a specific plan for them as there is not a "one size fits all" approach to nutrition. I help you create a plan that best fits with your lifestyle. If you are looking for someone who can help guide you to reach your goals, schedule an appointment with me today!
On my website, you can find blog posts on various nutrition topics as well as healthy, flavorful recipes that I cook for my own family frequently complete with nutrition information. Use the search box on the home page to look for specific topics.
I am affiliated with the Academy of Nutrition & Dietetics, currently serving as the co-chair of the marketing committee for the Colorado Academy of Nutrition & Dietetics. In my spare time, you can usually find me playing board games, running around Cheesman Park, curled up with a good book, hiking in the foothills, and cooking up something delicious.