Easy Homemade Sweet Potato Fries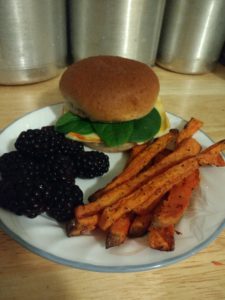 I often find it difficult to cook a vegetable side dish for dinners that my picky husband will approve of. He is a very texture-oriented person when it comes to vegetables. Since we had been dating (7 years) before we got married I felt accomplished when he actually enjoyed fresh spinach salads and cooked broccoli! Since then, he is much more open to trying new vegetables but we still have to take it slow. 🙂 More recently, I've had great success with baked sweet potato fries (as long as they are somewhat crispy).
This is a great alternative to regular potato fries to help you get even more nutrient-dense with your meals. Best part is that these are super easy to make! Pair this side dish with my turkey burger recipe for a well balanced meal.
Ingredients
1 large sweet potato, approximately 500 g
3 Tbsp olive oil
1/2 tsp salt
1/4 tsp black pepper
Preheat the oven to 400 degrees F. Peel sweet potatoes and slice them into fries (don't make them too thin). In a large bowl, add the sweet potatoes, olive oil, salt, & pepper. Toss the potatoes until coated evenly. On a baking sheet lined with foil, spread out the sweet potato fries. Cook for 40 minutes, flipping halfway through. Serve warm. Recipe makes 4 servings.
Serving size = 10-12 fries.
Nutrition Facts: 198 calories, 10.5g total fat, 359mg sodium, 25g total carbohydrates, 4g dietary fiber, 5g sugar, 2g protein