Recipe: Skinny Pumpkin Spice Latte Two Ways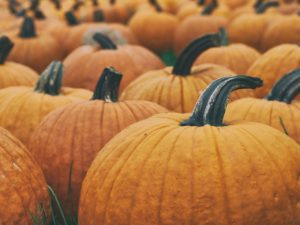 Some scientists state the colder weather brings a natural instinct to bulk up on calories and in doing that we tend to crave the higher sugar and higher fat foods. Other scientists believe fall brings more opportunities to eat unhealthier foods during the holidays. Whatever the case may be, the key is to find healthier alternatives in your higher calorie comfort foods. About this time of the year, pumpkin spice lattes are flying out of the coffee shops and into the hands of many Americans providing empty calories. Empty calories are foods that are not considered nutrient dense. These foods do not contain any nutritional value such as fiber, protein, vitamins, and minerals. If you can't live without a pumpkin treat this season, consider making these skinny pumpkin spice lattes your go to healthier morning alternative.
Skinny Frozen Pumpkin Spice Latte
1/2 cup canned pumpkin puree
3/4 cup 1% milk
5 brewed coffee ice cubes
1 tsp pumpkin pie spice
2 tsp light maple syrup
1 tsp vanilla extract
1 individual stevia packet
Blend all ingredients together and serve immediately. Makes 1 serving.
Nutrition Facts: 141 calories, 1.5 g total fat, 122 mg sodium, 23 g total carbohydrates, 3 g dietary fiber, 18 g sugar, 6 g protein
Skinny Hot Pumpkin Spice Latte
1/2 cup 1% milk
1/4 cup canned pumpkin puree
2 individual packets of stevia
1/2 tsp vanilla extract
1/2 tsp pumpkin pie spice
1/2 cup hot brewed coffee
2 Tbsp light whipped topping
In a small bowl, add milk, pumpkin puree, stevia, vanilla, and pumpkin spice and whisk vigorously until frothy. Add contents to a microwave safe coffee mug and heat in the microwave for 1 minute. Stir in 1/2 cup of hot brewed coffee. Top latte with whipped topping and serve immediately. Makes 1 serving.
Nutrition Facts: 95 calories, 2 g total fat, 60 mg sodium, 14 g total carbohydrates, 1.5 g dietary fiber, 9.5 g sugar, 4 g protein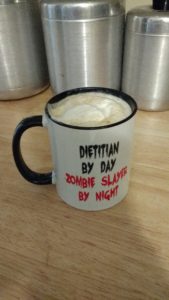 Compare these two recipes to the grande (16 oz) Starbucks pumpkin spice latte with whipped cream at 380 calories, 14 g total fat, 240 mg sodium, 52 g total carbohydrates, 0 g dietary fiber, 50 g sugar, and 14 g protein. While the Starbucks version may have more protein, you will be better off with one of the alternatives above and getting most of your protein through breakfast. Happy Fall!
beverage cold weather diabetic friendly drink fall lose weight low calorie low fat low sodium pumpkin vegetarian