Recipe: Apple-Walnut Crisp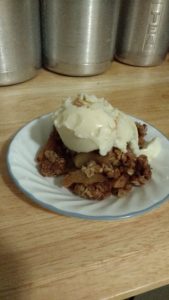 The air is becoming more crisp and cold (see what I did there?) as this Friday marks the first day of fall for the year (September 22nd). What better way to celebrate than with some warm apple crisp? Oftentimes apple crisp is loaded with sugar as recipes typically call for white or brown sugar. This healthier version uses light maple syrup as a sweetener instead while the walnuts add essential omega-3 fatty acids; all while not compromising taste which is how food should be.
It can sometimes be hard to find recipes that are easy, tasty, and gluten-free all in one! This recipe provides that option while also making a simple switch to make it not-gluten-free for those who do not need to be on a strict gluten-free diet.
Ingredients for the apple filling
5 granny smith apples, peeled and sliced thin
2 Tbsp light maple syrup
2 tsp cinnamon
3 Tbsp water
Ingredients for the crumble topping
1 cup certified gluten-free rolled oats
1/2 cup of flour (I used Bob Mill's Gluten-Free flour, but all-purpose flour works too)
1/2 cup chopped walnuts
1 tsp cinnamon
1/4 tsp salt
1/4 cup unsalted butter, melted
1/4 cup light maple syrup
Grease a 9×9 casserole dish. Peel and slice thin the apples and add them to the casserole dish. Add the maple syrup, cinnamon, and water to the apples. Stir them to evenly coat and set aside.
Preheat the oven to 350° F. In a separate bowl, add all of the ingredients for the crumble topping and mix well. Spoon the mixture onto the apples and spread evenly.
Bake the crisp for 45 minutes or until the apples are tender and the crisp topping is slightly brown. Serve warm.
Serves 8 people.
Nutrition Facts (without ice cream): 246 calories, 11g fat, 112 mg sodium, 36 g total carbohydrates, 5 g fiber, 17 g sugar, 3 g protein
For an extra special treat, add 1/2 cup of Halo salted caramel lite ice cream on top of the warm apple crisp or for less calories top it with fat-free whipped topping. It will not disappoint!
Disclaimer: I am not affiliated or receiving reimbursement from any of the products listed above. These are just products that I recommend.
apples cinnamon dessert fall gluten free high fiber low calorie low sodium