Recipe: Avocado & Tomato Chicken Salad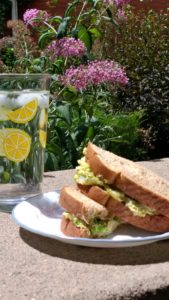 In the last few blog posts, I have been discussing various topics on reducing chronic inflammation. This is another one of those. 🙂 Chronic inflammation is linked to so many different chronic diseases and nutrition has been shown to help reduce those risks. This time we are focusing on the omega-6/omega-3 fatty acid ratio.
We tend to consume more omega-6 fatty acids than we do omega-3 fatty acids. This leaves us with an unbalanced ratio which is typically 15:1 for the western diet. An unbalanced ratio has been shown to increase risk of developing inflammatory and autoimmune diseases. Both omega-6 and omega-3 fatty acids are essential nutrients; meaning we need to obtain them from food sources because our bodies will not make them on their own. Omega-6 fatty acids are found in vegetable oils and fast food (they use a lot of corn oil) which means the western diet gets PLENTY! This is why we have such a big focus on including omega-3 fatty acids in our diet.
Research shows we should strive for a ratio closer to 2:1 to help suppress chronic inflammation. This means most western diets should put focus on including more omega-3 fatty acid containing foods such as avocado, walnuts, olive oil, salmon, and ground flax seed. This avocado & tomato chicken salad recipe is flavorful and also packed with omega-3 fatty acids.
Ingredients:
1 Tbsp olive oil
1 lb chicken breast
1 Tbsp garlic powder
Salt substitute (I used a light salt blend)
Black pepper
2 ripe avocados
1/2 cup tomato, finely diced
1/2 cup onion, finely diced
2 Tbsp fresh cilantro, finely chopped
2 tsp ground flax seed
1/2 lime, juice only
Using a meat mallet, flatten thawed chicken to equal thickness if not already. Add chicken breast to skillet with olive oil. Lightly season with salt substitute, garlic powder, and black pepper on both sides. Cook on medium heat with lid on. This allows the chicken to remain moist. Use a thermometer to make sure chicken is cooked through (165 degrees F).
In a medium bowl, mash avocado. Add tomatoes, onion, cilantro, and flax seed. Squeeze lime juice into bowl. Once chicken is cooked, using two forks, shred the chicken and add it to the bowl. Mix everything together well and refrigerate for 1-2 hours before serving.
Makes 4 servings. 1 serving = 1/2 cup
Nutrition Facts: 239 calories, 14 g total fat, 533 mg sodium, 8 g total carbohydrates, 4 g dietary fiber, 1 g sugar, 24 g protein
Put on whole wheat bread or tortilla for a great and filling lunch addition.
anti-inflammatory avocado chicken healthy lunch omega-3 fatty acids omega-6 fatty acids sandwich