Recipe: Grilled Rainbow Veggies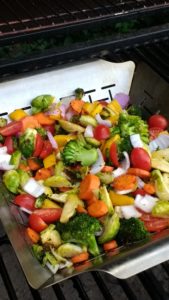 In honor of June being Pride month, for support of the LGBT community, I decided to post a healthy side dish that is bursting with color. You can roast all sorts of different vegetables but it's important to get a variety for good nutritional health. These Grilled Rainbow Veggies are sure to give you just that! By including vegetables into your meal plan, you will be provided with fiber, Vitamin C, Vitamin A, various minerals, and many different antioxidants that have been shown to help prevent the onset of many chronic diseases. This is also a great side dish to include in any diabetic or weight loss meal plan.
The original recipe is from Simple Vegan Blog and I adapted it to suite my tastebuds. I used red onion, cherry tomatoes, brussel sprouts, yellow bell pepper, carrots, and broccoli. Also given the summer month is the time for grilling, I decided to cook these in a vegetable basket on the grill instead of in the oven. This is a great way to introduce new vegetables and explore with different textures. Another combination I would also recommend is beets, red pepper, yellow squash, carrots, asparagus spears, and zucchini.
Ingredients
1 medium red onion, chopped into large chunks
1 pint grape or cherry tomatoes, halved
1 lb. brussel sprouts, halved
1 large yellow pepper, chopped into large chunks
3 medium carrots, peeled and sliced into coins
1 medium broccoli crown, chopped into large florets
4 Tbsp olive oil, divided
1 tsp salt substitute, divided
1 tsp black pepper, divided
Preheat grill. Place brussel sprouts, carrots, and broccoli in a vegetable basket on the grill. Drizzle 2 Tbsp oil and sprinkle 1/2 tsp of salt and pepper over vegetables. Toss to coat. Grill vegetables until just almost tender, turning and mixing every so often to not burn them, about 10 minutes. Add tomatoes, yellow pepper, and onion to vegetable basket.  Drizzle remaining oil and sprinkle remaining salt and pepper on vegetables. Toss to coat and cook until desired texture is met. Serve warm.
These vegetables are a great accompaniment to turkey burgers on the grill. If you are craving a dessert, check out some of these healthy dessert alternatives such as "ice cream" sandwiches to cool you off in the summer heat.
Makes 10 servings. 1 serving = approximately 1 cup.
Nutrition Facts: 95 calories, 6g total fat, 143mg sodium, 10g total carbohydrates, 4g sugar, 3g dietary fiber, 3g protein
color gluten free grill low calorie low carbohydrate low sodium side dish vegan vegetables vegetarian