Recipe: Vietnamese Spring Rolls with Ginger-Peanut Dipping Sauce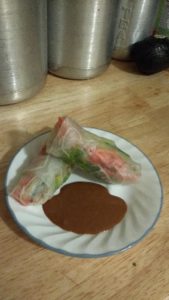 In honor of National Celiac Awareness Month, I am posting a recipe for a gluten-free spring roll. These rolls are incredibly fresh and great to enjoy on the patio in the sun. A friend of mine introduced me to these spring rolls and I have been crazy over them since! I estimate each roll provides about 2 servings of vegetables out of the minimum 5 servings of fruits and/or vegetables needed per day. The vegetable ingredients I put in these rolls are what I recommend, but you can also add bean sprouts, lettuce/spinach, fresh mushrooms…the options are endless! The recipe below is going to provide fiber, vitamin C from the red pepper, vitamin A from the carrots, and Omega-3 fatty acids from the avocado. Such a nutrient-dense and colorful dish!
Ingredients for ginger-peanut sauce:
4 Tbsp peanut butter powder
2 Tbsp water
1 tsp ground ginger
1 Tbsp reduced-sodium soy sauce
1 tsp sugar
1 Tbsp sesame oil
1/2 tsp rice vinegar
Nutrition Facts: 62 calories, 4g fat, 180mg sodium, 5g carbohydrates, 1g fiber, 2g sugar, 3g protein
Serving size: 1 Tbsp         Makes 4 servings
Ingredients for rolls:
8 sheets of rice paper
1 cup rice noodles, cooked (I used brown rice noodles – whole grains!)
1 cup shredded carrots
1 avocado (150g), sliced thin
1 cup cucumber, cut in long thin strips about the size of your index finger
1 cup red bell pepper, cut in long thin strips
1/4 cup fresh cilantro, chopped
Large bowl of warm water
Nutrition Facts: 200 calories, 6g fat, 59mg sodium, 36g carbohydrates, 5g fiber, 6 g sugar, 3g protein
Serving size: 2 rolls            Makes 8 rolls
Prepare the ginger-peanut sauce first. Add peanut butter powder and water in small bowl and mix well. Thoroughly mix in the ground ginger. Add the remaining ingredients and stir until smooth. Refrigerate until ready to serve.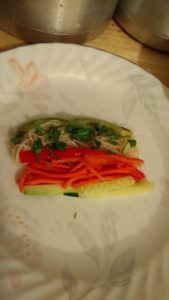 One at a time, dip rice paper sheet in bowl of warm water and submerge for 30 seconds. Place sheet on flat surface or plate and light dab with clean paper towel to soak up excess water if necessary. Lay out rice noodles and vegetables in rows as shown in the picture. Top with fresh cilantro. Tightly roll the rice paper starting from the bottom like a burrito, bringing in the sides half-way. Be careful not to tear the rice paper sheet during this process.
When storing leftover spring rolls, wrap them in a dampened (not dripping) paper towel to keep them moist or the rice paper will harden and become unpleasant to consume.
These spring rolls are a great addition to your lunch served with some fresh mango and some low-fat cottage cheese on the side or as a filling snack in between lunch and dinner. For those who are following a low sodium diet, these are still great without the dipping sauce or try drizzling a tsp of the sauce over the vegetables before rolling them up. Let me know what you think about this recipe! Enjoy!
fresh gluten free low calorie low sodium lunch snack vegan vegetables vegetarian